Bugden Signs is a industry leader in fabricating custom shaped illuminated channel letters and illuminated signs and cabinets. No matter the size or shape, Bugden Signs uses only the best materials to produce a sign that is built to withstand the harshest of Newfoundland's weather.
Channel Letters 
Standard channel letter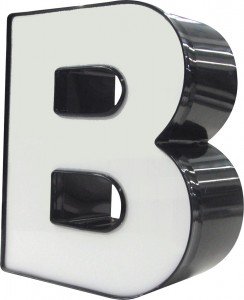 A standard channel letter is a 3 dimensional graphic sign element. Its channel is fabricated from sheet metal, most often aluminum since it will not rust.  The letter  is painted and fitted with any lighting components necessary such as neon gas tubes or light-emitting diode (LED) modules. A translucent plastic face usually of 3/16″ thick sheet acrylic fiber or polycarbonate is cut to fit the open face of the letter can. A trim cap border is applied to its edges which gives the letter face a finished appearance and creates a fastening surface to attach it to the letter can. At night, these illuminated signs draw the eye of passers-by.
Exposed neon channel letter
These resemble standard letters, but the neon is covered with a clear acrylic face to keep birds from making a nest in a channel letter.
Reverse lit channel letter
In this type of illuminated sign, the face of the letter is constructed from aluminum and the lighting is directed to the back. This light floods the wall that the letter is mounted to and creates a negative space at night. Letters in this style are also called halo letters.
Illuminated Cabinets
Illuminated cabinets (cans) are typically much larger than channel letters and are either square or rectangular in shape. The backs of these illuminated signs are still constructed from high grade sheet metal to minimize rust. Their side returns are constructed from an extruded aluminium that are welded together. The sides of the cabinet can be painted to match the colour of the building or to match the artwork or left unpainted. The face is constructed from either a high grade acrylic or polycarbonate face. The face is then applied with cut translucent vinyl
Illuminated cabinets can be either single or double sided. Single sided cabinets are typically mounted directly to a building. Double sided cabinets are typically mounted onto posts.
Illuminated Pylons
Illuminated pylons are mounted to large posts and fastened to a concrete foundation on the ground. Pylons are often composed of a series of double sided cabinets. Where each cabinet in the pylon represents a tenant in a commercial building for example.
Neon Signs
Neon glass tubes used to be the standard form of illumination for channel letters. Since the advent of LED technology, neon has slowly been replaced. Bugden Signs, is currently the only neon service and repair shop on the island. While we no longer is neon as a standard we still use it as an art form in many restaurant and bar signs.
Contact one of our sales team and have us design and manufacture an illuminated sign for your business